Latest News
The language course at Dar al Kalima University College had its graduation
The Indonesian language course at Dar al Kalima University College had its graduation on February 25. The course was offered for free in cooperation with The Palestinian Indonisian Friendship Association and Indonisian Embassy in Amman. Among the 20 graduates of the class were five current or former students from the Dar al Kalima Tour Guide Program.
Students from the Dar al Kalima music program offered musical performances at the ceremony.
Speakers at the graduation included Abdel Munem Zahdeh, head of the Palestinian Indonisian Association, and Dr. Nuha Khoury, Academic Vice President at Dar al Kalima.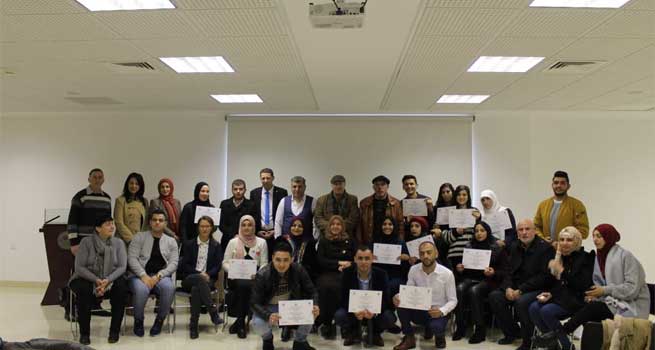 Sami Abu Ghazeleh, head of the Tour Guide Program, said the course was particularly helpful for tour guide students because of the increasing number of Indonesian tourists who visit Palestine each year.
"Each year there are around 100,000 tourists coming to our country speaking Indonisian," he said. "So far there are only a few tour guides speaking this language."
As tourism in Palestine continues to grow, the Palestinian Ministry of Tourism asks for tour guides to speak a third language.
"Most tour guides speak Arabic and English, but now they encourage tour guides to have other needed languages like the Indonesian that would help with the Islamic tourism which is growing here," Abu Ghazeleh said.
The three-month course was not only attended by tour guiding students. Abu Ghazeleh said that many students had other goals for their Indonesian language skills, like being able to improve communication with Indonesian tourists in a restaurant setting.
All of the students who completed the course are eligible to pursue further study in Indonesia. Ahmad Froukh, a former tour guide student at Dar al Kalima, completed two semesters of language study in Indonesia at STBA LIA College.
"It was not easy in the beginning because I didn't hear any Indonesian words when I was young like Spanish or French languages, but step by step it becomes easy to learn," Froukh said. "My favourite part was the natural places and that people there were so friendly and helpful."
أعلى